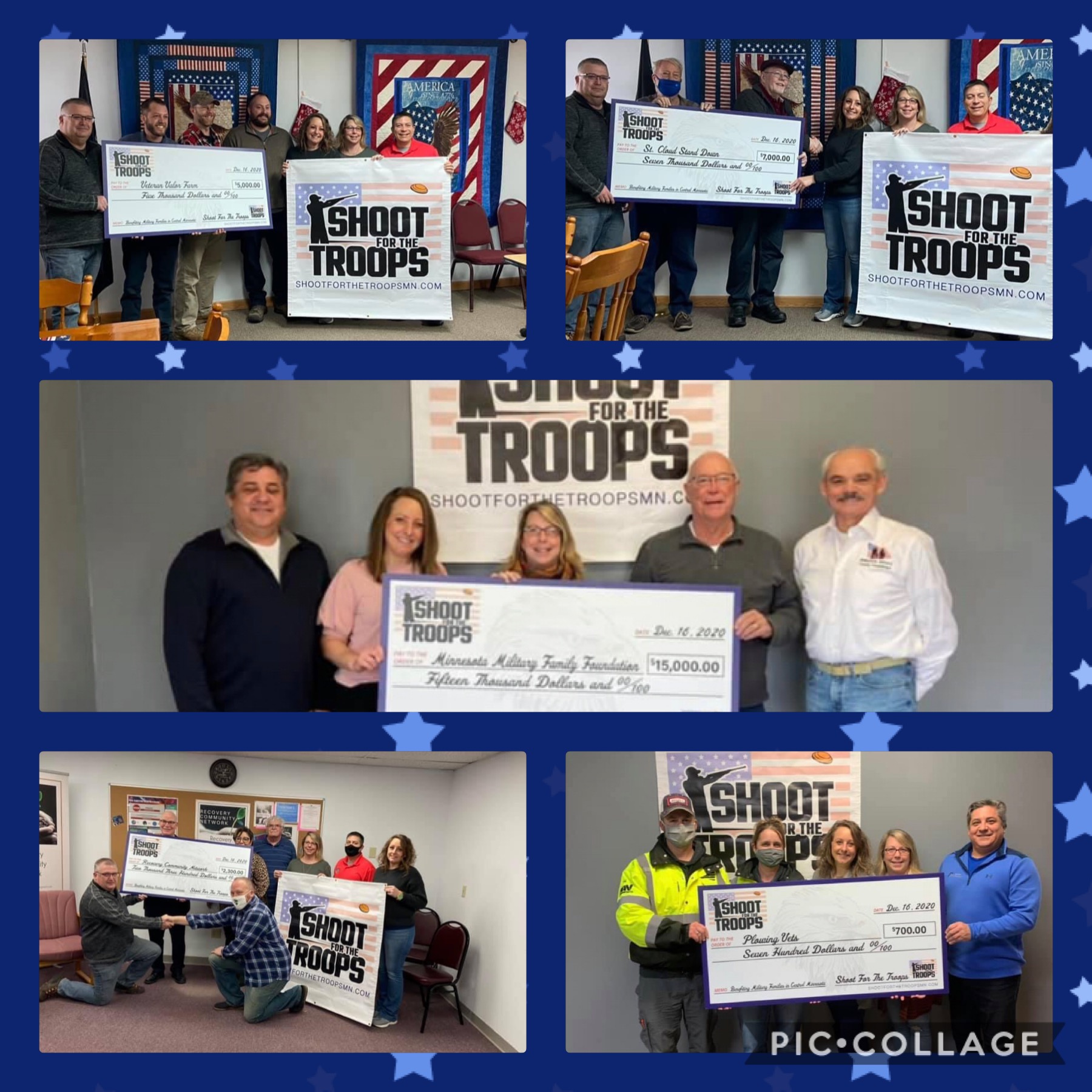 Shoot for the Troops is a 501 (c)(3) organization. Dan Bokinskie, Past President; Chad Regnier, Vice President; Eduardo Suarez, President, Tammy Regnier, Treasurer, and Amanda Othoudt, Secretary for Shoot for the Troops presented a check in the amount of $15,000 to Major General Jon Trost (Ret) and Dennis Angell on behalf of the Minnesota Military Family Foundation (MMFF). www.minnesotamilitaryfamilyfoundation.org
In addition, Dan Bokinskie, Past President; Chad Regnier, Vice President; Eduardo Suarez, President, Tammy Regnier, Treasurer, and Amanda Othoudt, Secretary presented a check to St. Cloud Stand Down in the amount of $7,000 to Bob Behrens and members of their affiliation. https://stcloudstanddown.com/
Dan Bokinskie, Past President; Chad Regnier, Vice President; Eduardo Suarez, President, Tammy Regnier, Treasurer, and Amanda Othoudt, Secretary presented a check to Veteran Valor Farm in the amount of $5,000 to Matthew Lovitz, Jeremiah Peterson, Aaron Othoudt and members of their affiliation. http://veteranvalorfarm.org/
Chad Regnier, Vice President; Tammy Regnier, Treasurer, Ed Suarez, President; Amanda Othoudt, Secretary presented a check in the amount of $2,300 to John Donovan from the Recovery Community Network and members of their affiliation. https://www.recoverycommunitynetwork.com/
In addition, Dan Bokinskie, Past President; Chad Regnier, Vice President; Eduardo Suarez, President, Tammy Regnier, Treasurer, and Amanda Othoudt, Secretary presented a check to Plowing for Vets in the amount of $700 to Tim Krouth and members of their affiliation.
It can be tough to imagine being separated from your family and friends for lengthy periods of time, or being sent to distant, dangerous locations in order to defend our Country and our Freedom. It's a sacrifice that very few of us have experienced. The family members that lose the active presence of a parent through separation face significant challenges and financial stress due to the job that their deployed family member left behind.
The money raised this past year has gone to support military families that are in need of a little extra help during times of financial hardship.
Thank you to all of our Sponsors and Donors this past year, we couldn't have done it without you! This year's events will be held on August 3, 2021 at Horse and Hunt in Prior Lake and September 14th 2021 at LeBlanc's Rice Creek Game Farm in Little Falls.
To learn about the Shoot for the Troops event visit our website at www.shootforthetroopsmn.com from there you can link directly to our Facebook page. For more information regarding our signature recipients you can visit their websites.