Benefiting Military Families in Central Minnesota
Shoot for the Troops is a 501c3 (Id #82-2024344) non-profit organization, our mission is to support military service members, veterans, and their families deployed or stateside who are in need of resources due to economic or special hardships. Shoot for the Troops hosts a sporting clays event annually to raise funds for military families in central Minnesota.
The majority of the money raised from this Shoot for the Troops event has gone to support military families that are in need of a little extra help during times of financial hardship. The Shoot for the Troops event has raised over $250,000! Contact us to learn how to get involved or your business involved with this great event in 2022!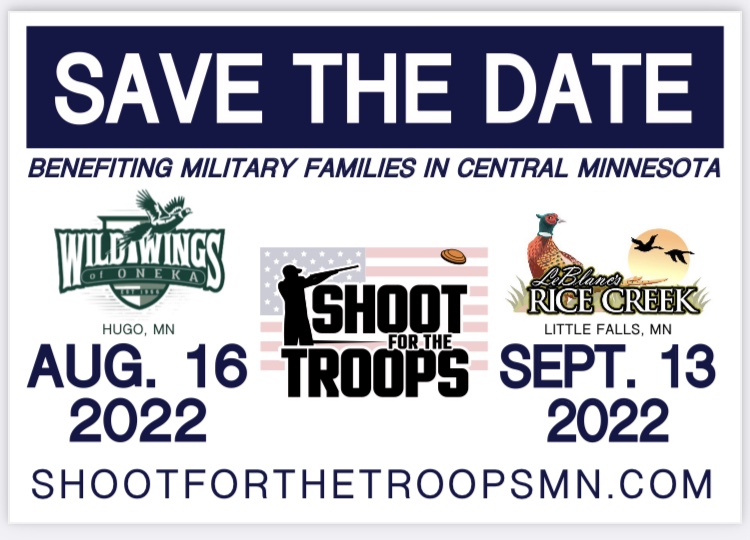 ---

2021 Annual Sporting Clays Event
A huge thank you goes out to our sponsors and participants!!! Your support  helped make our 2021 annual sporting clays event at LeBlanc's Rice Creek a record success! Thanks to you we are able to distribute over $70,000! Your support helps our largest recipient, the Minnesota Military Family Foundation (MMFF) which helps Minnesota military families throughout the year.
In addition to MMFF, your donation supports several other non-profits that benefit veterans at large. Not only will your support ensure military families in need have the basic necessities such as food, diapers, clothing, and heat for their homes this winter; veterans in crisis that need housing, and addiction recovery support will also benefit.  
We truly appreciate your support and thoughtfulness. Mark your calendars for Tuesday, September 13, 2022 for the next Shoot for the Troops Event. Please visit www.shootforthetroopsmn.com to stay current on upcoming events and opportunities
---
Thank you for your continued support!

Sincerely,

Eduardo Suarez, President
Chad Regnier, Vice President
Dan Bokinskie, Past President
Amanda Othoudt, Secretary
Tammy Regnier, Treasurer
---
MNB Shoot for the Troops from Ron Schara Productions on Vimeo.